How To Make A DIY Marble Suncatcher Mobile
We had so much fun making our marble tea lights last week that we decided to make another marble craft.  This time we used wood craft sticks and twine to make this easy marble suncatcher mobile.  It was such a beautiful day outside that we hung it from our apple tree, but eventually we will hang it in front of the window in my son's bedroom.
Supplies Needed:
marbles
527 Multi-Use glue
10 large wood craft sticks
twine
small embroidery hoop
metal ring
binder clips (optional)
scissors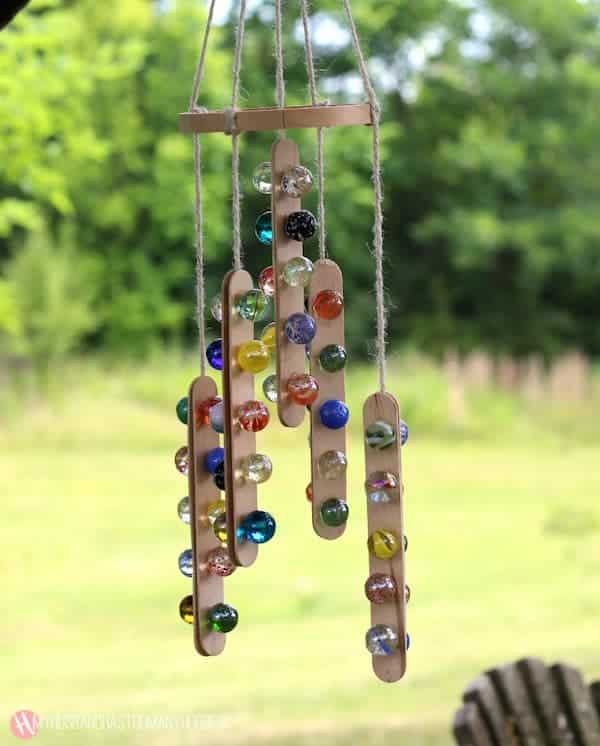 Step 1 – We glued five marbles on one side of ten craft sticks and set them aside to dry.  This glue sets in 2 hours.  We had a marble or two that wanted to roll off the craft stick,  so we waited about 1/2 hour applied a little more glue and moved the marble back into position and then those two rogue marbles stayed in place.   Although the glue set in 2 hours, it take 24 hours to fully dry, so we left the project sit overnight.
Step 2 – The next day we cut 5 long strips of twine.  We also cut 10 short pieces of twine that we used to hold the sticks together once we applied glue.
Step 3 – We placed two of the craft stick together with 2 twine ties at the ready.  We used the 527 Multi-Use glue to run a bead of glue down the center of one of the two craft sticks.  Then we inserted one of the long pieces of twine between the two sticks and tied them together using the shorter twine pieces to hold everything in place while this dried.
We ended up with 5  pieces that will hang on our mobile.  We left this to dry for several hours.
Step 4 – When we came back we took 1/2 of a small embroidery hoop and hung each marble stick making sure to leave plenty of twine at the top to attach to our metal ring for hanging.   We used binder clips to hold the marble sticks in place in case we wanted to make any adjustments.   When we were satisfied.  We gathered the extra twine at the top and wrapped it around a metal ring and tied it in place.
Tip – You can make the top as long as you'd like by using longer or shorter strands of twine.  We figured this size would hang nicely in front of the window.
It was a bright and windy day outside and our DIY Marble Suncatcher Mobile looked great hanging from a tree branch.   We had a lot of fun working out the details and putting this together.