DIY PATRIOTIC FELT WREATH
Today we are sharing an easy DIY Patriotic Felt Wreath.  This wreath is easy to make and the use of felt keeps the cost low too.
You too can easily make this wreath with just a few supplies.  The straw wreath form is from Wal-Mart and is under $3.00.  It was wrapped in cellophane and I just left it on.   I used 5 sheets each of blue, white and red felt and straight pins to attach the felt pieces to the wreath form.  Sheets of felt are around 25 cents a piece.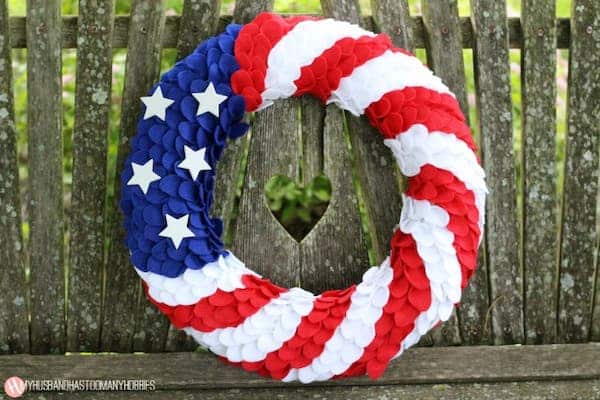 Step 1: Hand draw a tear drop pattern on a thin piece of cardboard.   This tear drop shape measures 2 inches long and an inch and a quarter at it's widest point.
Step 2: Cut out the tear drop shape and use as a template to cut similar shaped pieces from the felt.  At first I traced the pattern on the felt with a pencil.  I quickly realized that this method was going to take a while, so I started cutting through two pieces of felt at a time, and that made the process go a lot faster.   I cut as many tear drops as I could get out of each piece of felt.
Note: Depending on how big your pattern is, and how close you pin the pieces together, will determine the amount of felt pieces you need.  I used almost all of the pieces I cut.
Step 3: Fold the bottom edges together  to make a petal shape and attach to the wreath with a straight pin.
Step 4: Work in a slanted pattern starting at the outside edge of the wreath form and work to the center of the wreath form. The blue felt was added last.
Step 5: The use of felt makes this a vibrant and colourful wreath!  I attached a few white foam star stickers on the blue felt to finish the wreath.
This wreath comes together in just a couple of days.  It did take some time to cut out all the felt pieces, but it was worth it!
I hope you enjoyed this project.  Thank you!