HOW TO MAKE YOUR OWN HALLOWEEN DECORATED GLASS BOTTLES
We've seen some fun decorated glass jars and bottles for Halloween on Pinterest and decided to make a few of our own. If you are hosting a Halloween party this year, these would be fun to add to your party decor. To keep the cost low, we used a few items found at our local Dollar tree for this project.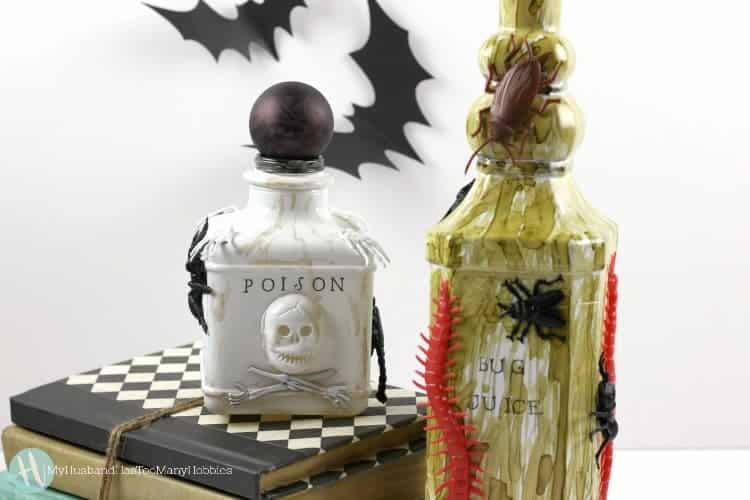 TUTORIAL FOR HALLOWEEN DECORATED GLASS BOTTLES:
Supplies Used:
Glass bottles
White Gloss Spray Paint
Alcohol Ink in mushroom and Oregano
Cotton Swabs
Package of plastic Halloween bugs and skeletons
Hot Melt Glue
Ping Pong Ball
Sharpie Marker or black craft paint
Optional: Alphabet Stamps
Gather a couple of glass bottles or jars. We found the red bottle at Dollar Tree, as well as the package of plastic bugs and skeletons. The square bottle we used was a soap dispenser bottle that the dispenser no longer worked and had to be replaced.
We glued a skeleton head and made cross-bones with pieces of skeleton arms and hot glued them to the square bottle, then both bottles were given a coat with a white spray paint.
After the paint dried, use hot melt glue to attach plastic spiders and bugs to the bottles.
The square jar did not have a lid, so we colored a ping-pong ball with a black sharpie as a substitute. A sharpie marker was also used to color the rings at the top of the square jar to help our mock lid look like it belonged. Alternatively, you could use black craft paint for the ring rim and ping-pong ball.
Alphabet stamps were used for the words, but you could also use a sharpie marker to write words on the jar.
HOW TO ADD DISTRESSING TO THE BOTTLES:
To distress the bottles, use a few drops of alcohol ink on a cotton swab to rub over the bottles. Just a few swipes of the "mushroom" color was the perfect for the poison bottle. The tall bottle got a healthy dose of the "oregano" color so that it had a drip appearance.
These were so much fun to make and after the spray paint dried, only took about 20 minutes to complete.