HOW TO MAKE YOUR OWN 5 MINUTE SPRING WREATH
Even though the weather has teased us a little with a few inches of snow this weekend, I am more than ready to shake off winter and start doing a little spring decorating.  Today I'm sharing one of the easiest wreaths I've ever put together.  If you have five minutes (maybe 10 if you like to make your bows more perfect than mine), then this Spring Wreath may be just what you're looking for!
I chose a rattan wreath form for this project because of the light color and branch weave.   The only other things you need are: a package of mini pastel pom poms, glue gun, ribbon, scissors, and a piece of wire or pipe cleaner to hold the bow together and to attach it to the wreath.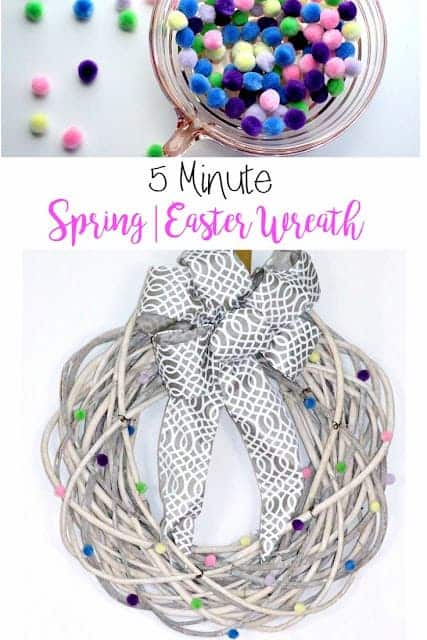 We lost our images sorry. If you make this, please email us your pictures.
I put mini poms in this cute pink depression glass bowl.   Why?  No reason other than they looked pretty and so spring-like sitting in this cute little bowl.  Really, it's because this project is so simple, I felt like I needed another picture.   Okay then, back to the project . . .
I randomly hot glued the mini pom poms onto the wreath.  Remember that less is more.  I attached just enough to add some color.
Next came the bow.  I am a bow making novice.  To get a little help and instruction on the process, I watched a quick video on YouTube first.  I used ribbon with wire edges and as you can see, the bow instruction was enough for me to tie an acceptable blow.  I didn't get any pictures of making the bow, because my hands were pretty tied up in the bow making process.   If you need help on how to make a pretty bow, check out this Video.
I love how easy this wreath was to put together as well as the neutral colors with just a hint of spring peaking out in the colorful pom poms.
It looks great on my front door.   Now, we are ready to welcome spring!