A couple of surveys have shown that most people would instead get professionals to complete tasks around their homes or houses like gardening and landscaping. We have different ideas regarding how we want our lawns to look. Before concluding on the type of landscape design we want, we should all consider the factors that come with landscaping; I mean aspects like its sustainability, are the plants adaptable to the site/soil conditions, among others. Alternative to grass is a preferred option with advantages which include reduced cost, reduced need for chemical fertilizers and pest control, and help conserve your water (reducing your water bill). Most of the time, all you need is just a little motivation or inspiration, and for my DIY enthusiast, below is a list of alternatives to grass options for you to pick from and trust me, whichever one you choose, you'd have a colorful or should I say the best garden design on the block.
8 ALTERNATIVES TO GRASS: FRONT YARD LANDSCAPING IDEAS
LAWN-FREE DROUGHT-RESISTANT LANDSCAPING- GRAVEL, AND STONE
With a combination of locally sourced gravel, adequately sized stones, drought-resistant shrubs, and flowers, you can fix up your front lawn and make it beautiful. For example, you could place the rocks in circular patterns to form the walkway, fill up the rest of the area with permeable gravel, and surround it with shrubs and flowers in beautiful designs. The use of permeable gravel is evident from the name as it allows the rain to soak into the ground instead of flowing freely into the street. The flowers and shrubs are added to beautify the surrounding areas, so your lawn does not look barren or boring.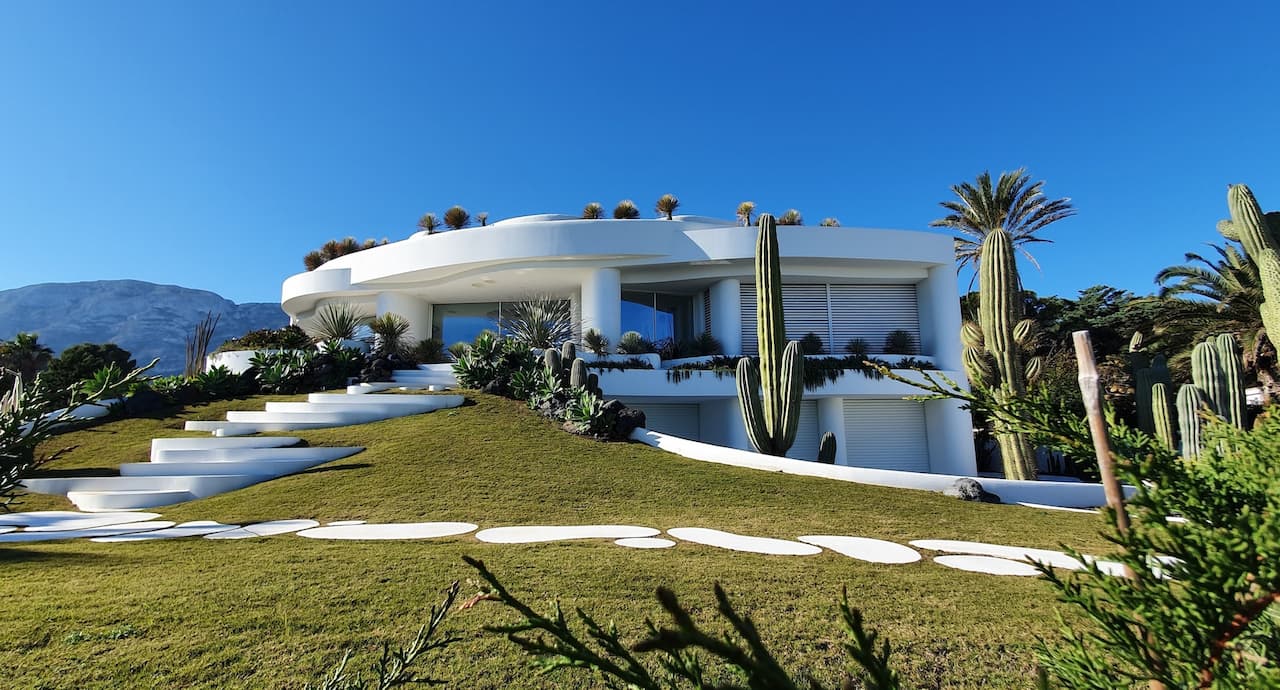 GRASS ALTERNATIVES- DRY CREEK BED
There are a lot of ideas relating to dry creek bed landscape designs; we have a simple stack design, a combination of rock beds, mulch, gravel pits, a bridge, a stunning stone feature, a dry creek bed with a fountain, etc. For example, the colored glass design allows you to add your preferred taste with colored stones or glass (an endless list of colors), border the bed with bricks or rocks, and then fill the rest of the surroundings with colorful plants or flowers.
ALTERNATIVE TO GRASS- MONDO GRASS
Mondo grass is beneficial as it is an easy-to-grow, attractive ground cover. Its grass-like foliage forms dense tufts that slowly spread over time and require no mowing. You can consider using bricks or stones for the pathway and then surround it with the mondo grass.
An added advantage of using mondo grass is that small stalks of flowers appear in summer, reminiscent of the grape Hyacinths on top of the crisp foliage.
NO MOW ALTERNATIVE TO GRASS- CONCRETE HARDSCAPING AND NATIVE GRASSES
This type of landscaping involves a concrete walkway that can be constructed or laid in whatever patterns you want. You can occupy the surrounding areas with many native plants (they require very little water and no mowing), and a couple of colorful flowers can add to the aesthetic.
LAWN AND GRASS ALTERNATIVE- ENGLISH GARDEN
English gardens are known and admired for their lush, green lawns, hedges, drifts, and borders of breathtaking flowers, grasses, and herbs. You need basic design principles and knowledge of plants that grow well in your region but can be integrated into a landscape, and you can capture the essence of an English garden.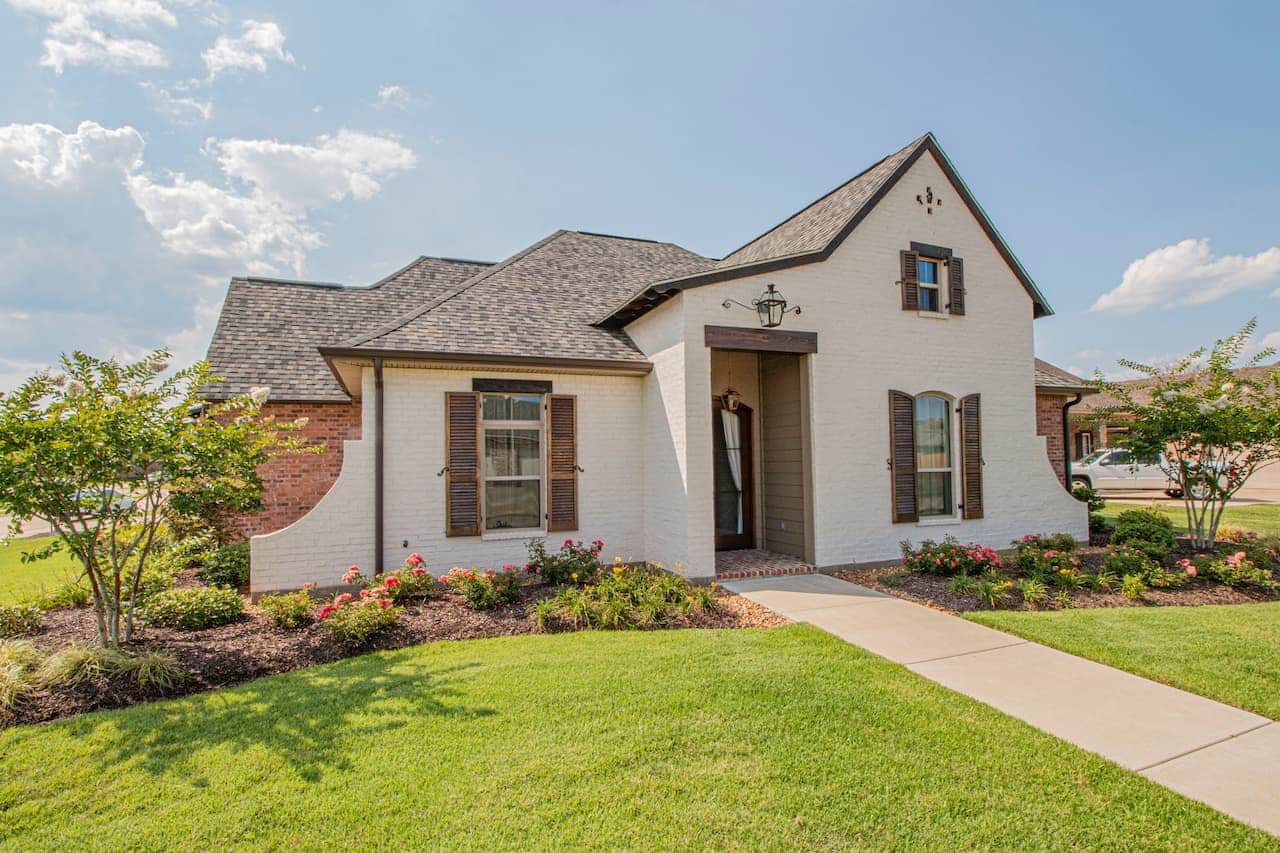 NO GRASS FRONT YARD IDEA- CREEPING THYME
The Thymus Serpyllum Elfin (creeping thyme) is a dwarf aromatic sub-shrub that forms a tight cushion of tiny, rounded, grey-green leaves. For this design, you can use gravel materials for the walkway (could be a mixture of crushed gravel and smooth stones), and then the carpets of creeping thyme can be run around the walkway as well as used as ground cover for the surrounding area; you can also add a few other colorful flowers of your choice.
LAND-FREE DROUGHT TOLERANT LANDSCAPING- DESERT PLANTS
The dessert had a bad reputation compared to its other green counterparts. But we can't ignore the wealth of plant and floral life, artifacts, and unique regional stones that produce an otherworldly realm of beauty and style-setting nuance. So for those living in desert areas, here's an option that suits you perfectly.
FRONT YARD GRASS ALTERNATIVE- BOULDERS
You must have seen a few beautiful landscape designs using boulders and want to add this natural feature to your plot. There are plenty of intelligent ways to introduce a breathtaking sense of scale and form, and of course, local rock companies will bring in and place boulders for you, so no worries about the heavy lifting.
CONCLUSION
These are just only some of the other various ideas of alternatives to grass. If you cannot carry out the processes for any of these designs, then it is okay and advisable to get professionals to do them for you. I'm hoping you got the motivation/inspiration you needed to get on with that landscape idea you have in mind.