Whether you're looking for a design boost for your containers or need a little 'something' to perk up the summer border, FOLIAGE is the answer. Yes we know those geraniums and fuschias are so tempting – and we're not suggesting you avoid them, but simply that you consider the leaf as well as the flower before making your selection.
Here are a few of our top 'go to' foliage annuals and perennials that are great to use as fillers in pots or the landscape.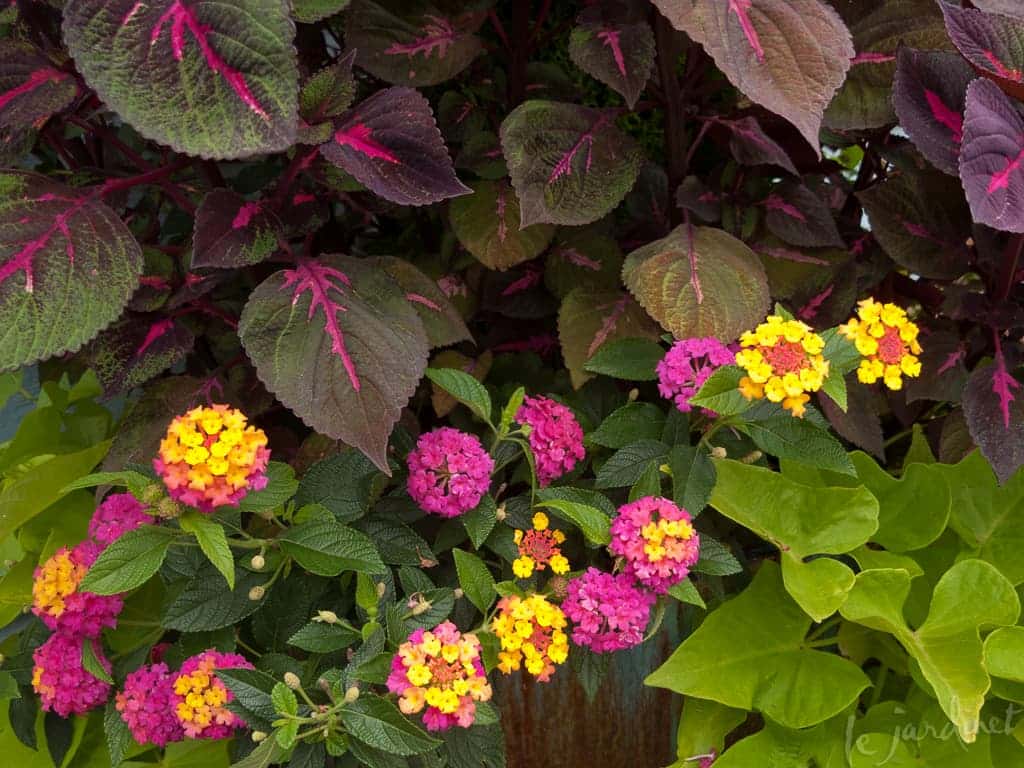 Croton
With a gazillion varieties of coleus to choose from you can find one in any size, color and habit you need. The trailing variety used above is Lava Rose. I love how the touch of white on each leaf adds a little sparkle. (For lots more coleus ideas click on the coleus tag in the sidebar. There are some real beauties!)
Quicksilver artemisia
Deer resistant, drought tolerant and perennial – this vigorous groundcover may be just what you need to fill a bare spot this summer. A new introduction from Proven Winners , I can personally highly recommend it after trialing it in my own garden last year. The cooling silver foliage is outstanding.
Purple Queen
Previously known as Setcresea, recently re-classified as Tradescantia pallida 'Purple Queen', one thing taxonomists agree on – it's gorgeous! A dramatic groundcover in warmer climates or a tough annual in cooler areas – either way you NEED this plant.
Beefsteak plant
Hot fuchsia pink, burgundy-purple and emerald green – yes it looks like a coleus but you will find beefsteak plant (Perilla frutescens 'Magilla') much more adaptable to both sun and shade designs.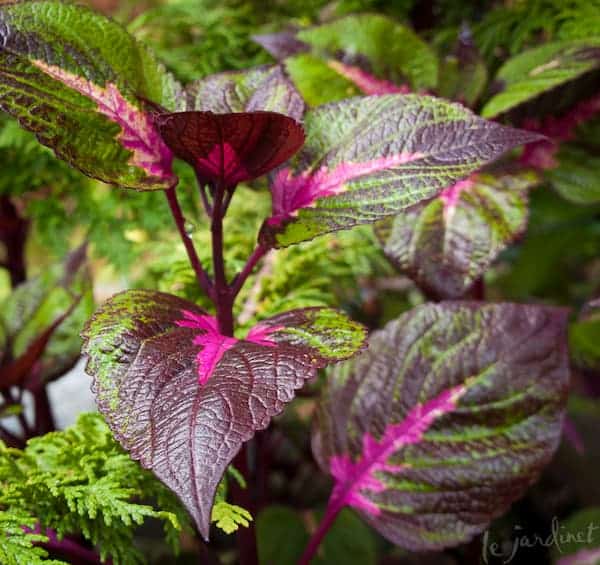 Autumnale fuschsia
While I certainly have my own photos of designs using this variegated fuchsia, none compares with this stunning design by Christina! In case you're not sure, the Autumnale fuschia isn't even in bloom in this photo; it is the red/yellow variegated leaf trailing at the front of the pot. WOWZA! Use it to repeat orange-red tones elsewhere such as these coleus leaves and Gartenmeister fuschia blooms.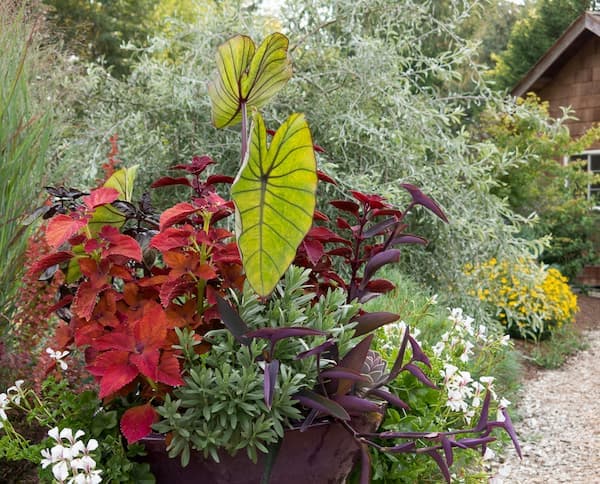 The combination above is one I put together for a client a few years ago. Here you can see the fuchsia weaving through multiple pots to great effect.
Bella Grigio lambs ears
Pretty in Pink – as featured in our new book Gardening with Foliage First (Timber Press, 2017)
What's big, silver and ultra-strokable? These GIANT lambs ears! This combination will appeal to gardeners who want lots of flowers but it's the inclusion of foliage plants that really makes this design sing. Bella Grigio lambs ears (Stachys 'Bella Grigio') are also wonderful additions to the landscape and are both deer and drought tolerant. In many areas they are considered a perennial but they don't fare well in my cold, wet winter soils so I accept them as a summer annual.
Want more ideas? Well we know of two rather excellent books to get you started…. Also be sure to click on our blog tags such as coleus and container design to find more inspirational posts.