Gardening
PERENNIALS FOR SHADE THAT BLOOM ALL SUMMER
The fact that all plant life requires constant sun and water cannot be argued, but it is also known that perennials can thrive in shady or low-light environments (little exposure to light). With their great names, these shade perennials help boast beautiful leaf colors and exotic flowers. Most of the time, gardeners with shady gardens don't have it easy to produce sunny gardens with bold and bright blooms; these perennials for shades are available. After doing our research, we have come up with a list of perennials that, combined with other shade-loving plants and additional backyard creativity, would be turning that shady area in your yard into the most colorful favorite outdoor spot. So take your time reviewing the list, and you will have an exciting summer in your backyard.
10 SHADE PERENNIALS THAT BLOOM ALL SUMMER
You love beautiful gardens, right? So do we. Pick up your garden tools let's begin planting.
GERANIUM- PERFECT FLOWERS FOR SHADE GARDENS
Although some geraniums would need special requirements for growth in some cases, this beauty would often grow anywhere. Research shows that there are over 300 species of geranium that come in different shapes, sizes, and colors and make beautiful gardens. Whether it's flowers for filling nooks and crannies of your gardens, or you need flowers to spruce up a shady spot, there is a geranium for each of these conditions. An example of perennial geranium is the cranesbill which originates from sea plants that look like the beak of a crane; its bloom comes in shades of pink, purple, and blue.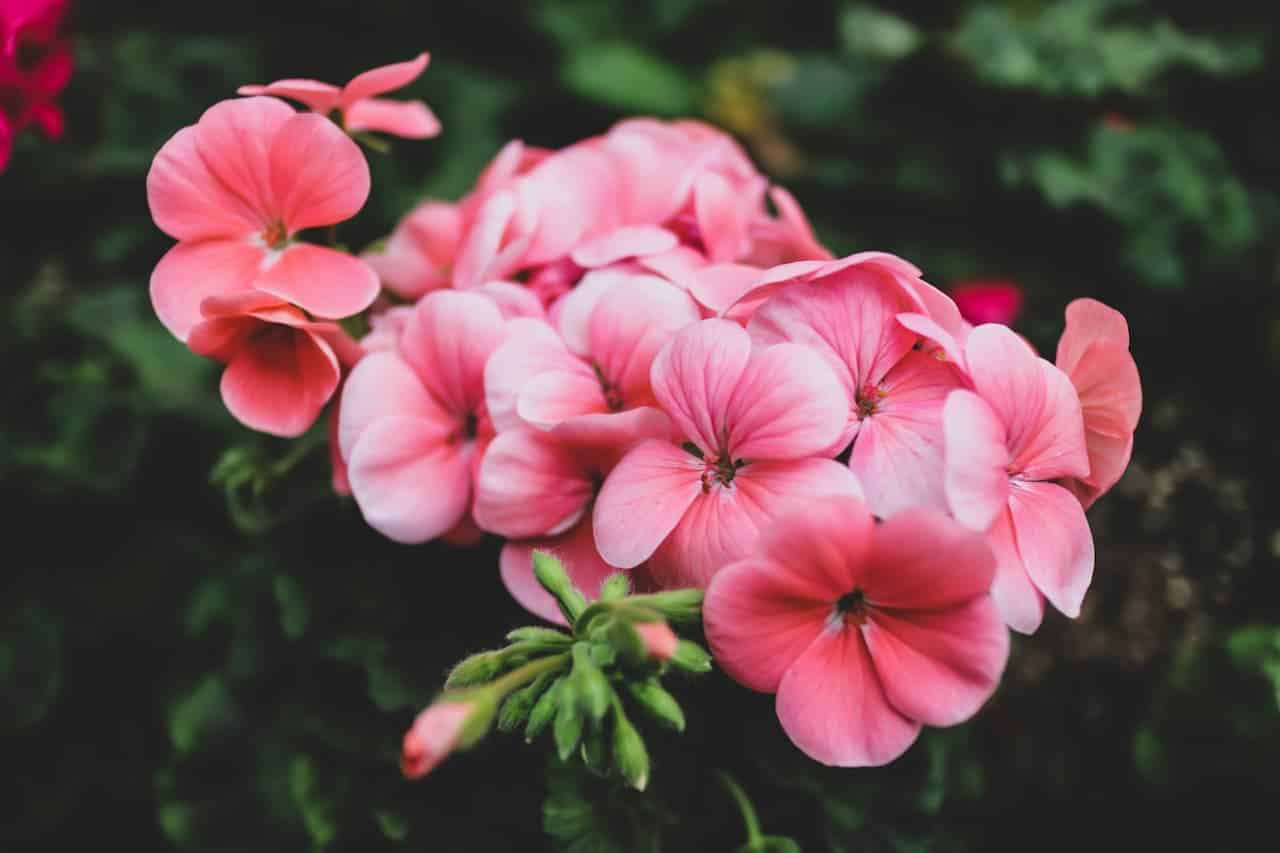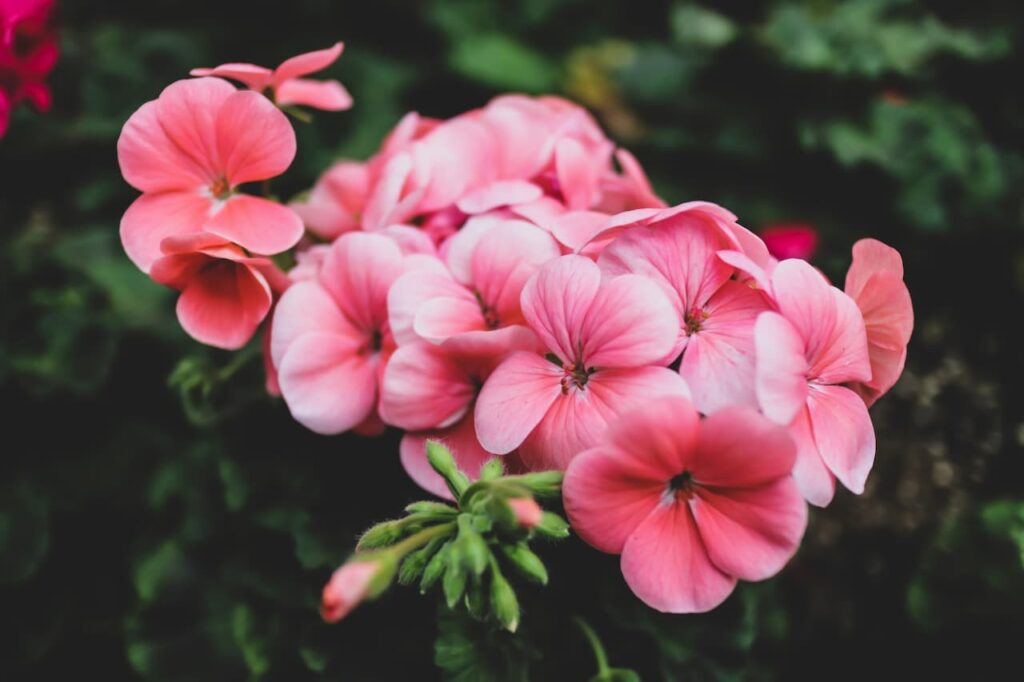 Perennial geraniums bloom in early to late spring and coni]tinues bloom through mid-summer, with a few blooming until fall.
HEUCHERA- CORAL BELLS
Coral bells would be a good option if you are looking for colorful flowers to add beauty to your shade garden. They have wide enough leaves and can be green, pink, bronze, purple, or variegated. You are probably wondering if they look like bells; well, they are bell-shaped hence the name coral bells. They can be grown in spatial shade or full sun and are one of hummingbirds' and butterflies' favorites.
Whether during summer or not, these perennial flowers are a lovely sight to see.
SPIDERWORT- PERENNIAL FLOWERS FOR SHADE OR SUN
This Texas native can grow in almost any condition, including shade(it grows best in partial shade). It is characterized by deep blue, violet-purple flowers, and contrasting yellow stamens that bloom for several months. Fun fact, its scientific name Tradescantia Virginia is in honor of John Tradescant, a gardener under the rule of King Charles I of England. In contrast, its actual name was gotten from the arrangement of its leaves like a squatting spider. It has flowers of colors white, pink, and purple all summer, and they are deer and drought resistant.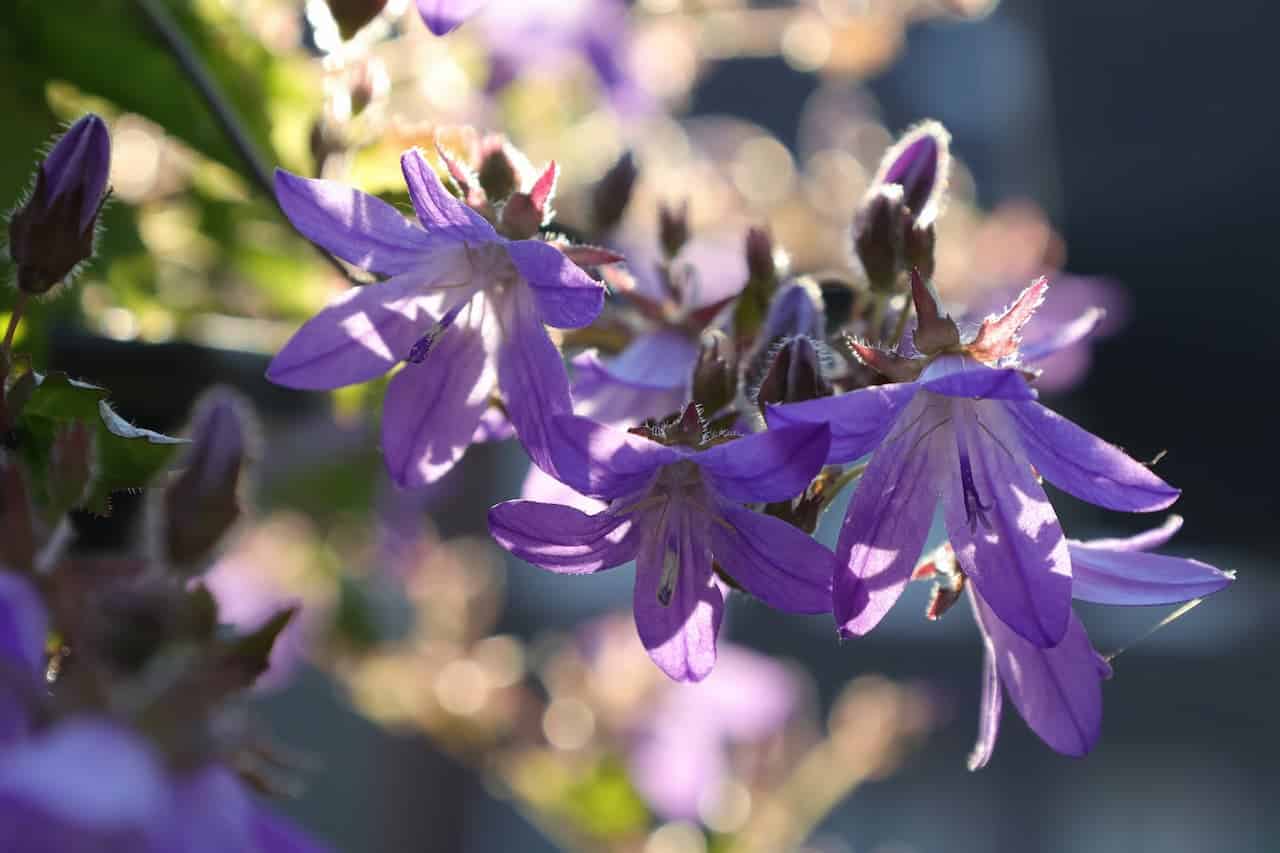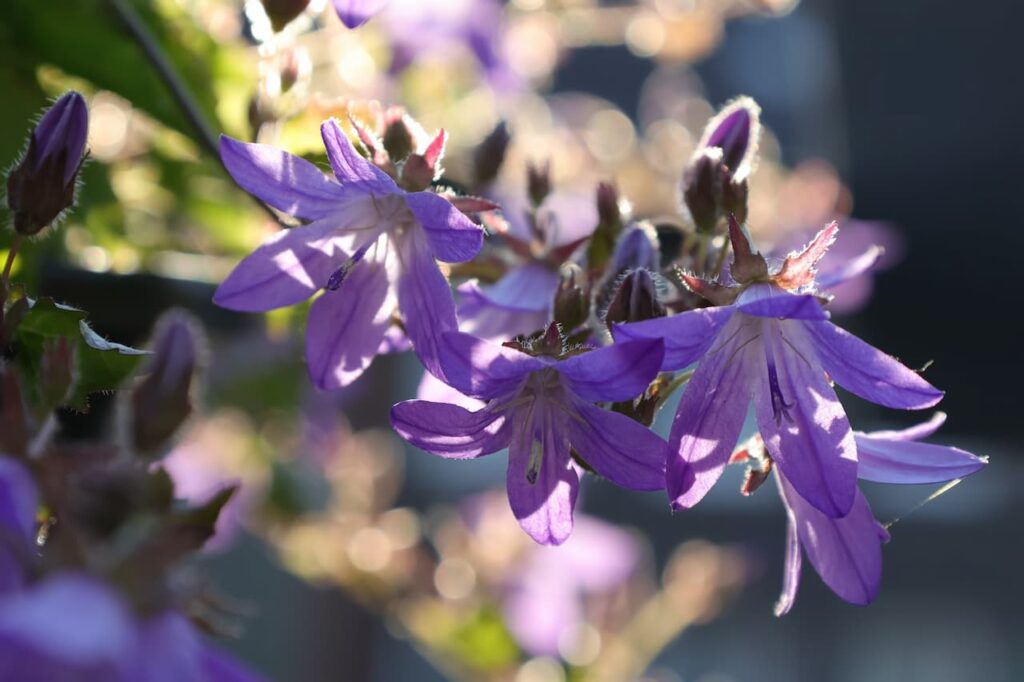 CAMPANULA (BELLFLOWER)- BLUE AND PURPLE PERENNIAL FLOWERS FOR SHADE
They are Romantic, wild, and unruly and come in different sizes and shapes for other locations and situations in your garden. Some people know them as Bellflowers, Canterbury bells, Faries thimbles, Harebells, etc. the Siberian campanula is our favorite and is characterized by its deep blue color white eye, and is very floriferous. Like the geranium, several species of campanula take care of every gardener's situation.
HARDY FUCHSIAS- PART SHADE PERENNIALS THAT BLOOM ALL SUMMER
Characterized by their continuous display of lavishing, dancing blossoms dangling in clusters like prize jewels, Fuchsias are spectacular flowers for summer. They come in unique colors, such as purple, luscious pink, white, and even peach, attracting hummingbirds and butterflies. They are a basket-like variety that grows larger and more upright; the common one is Fuchsia Magellanica which blooms from spring to the first frost.
HEUCHERELLA
A few people often get confused and mix up the names heuchera and heuchera; well, they are not entirely wrong since the heuchera is a hybrid from the cross between heuchera and tiarella. It is characterized by brilliant foliage colors, dark leaf patterns, and cut–leaf shapes from the parents (heuchera and tiarella). Also known as foamy bells, its flowers may be pink, cream, or white.
ASTILBE- SHADE PERENNIALS THAT ARE REPEAT BLOOMERS
These fluffy spires that bloom from late spring into summer are characterized by their glossy and attractive foliage that can beautify any shady garden. These flowers, although they are tough, cannot withstand drought but are deer and rabbit resistant. The colors include purple, pink, and white, and its common name is meadowsweet.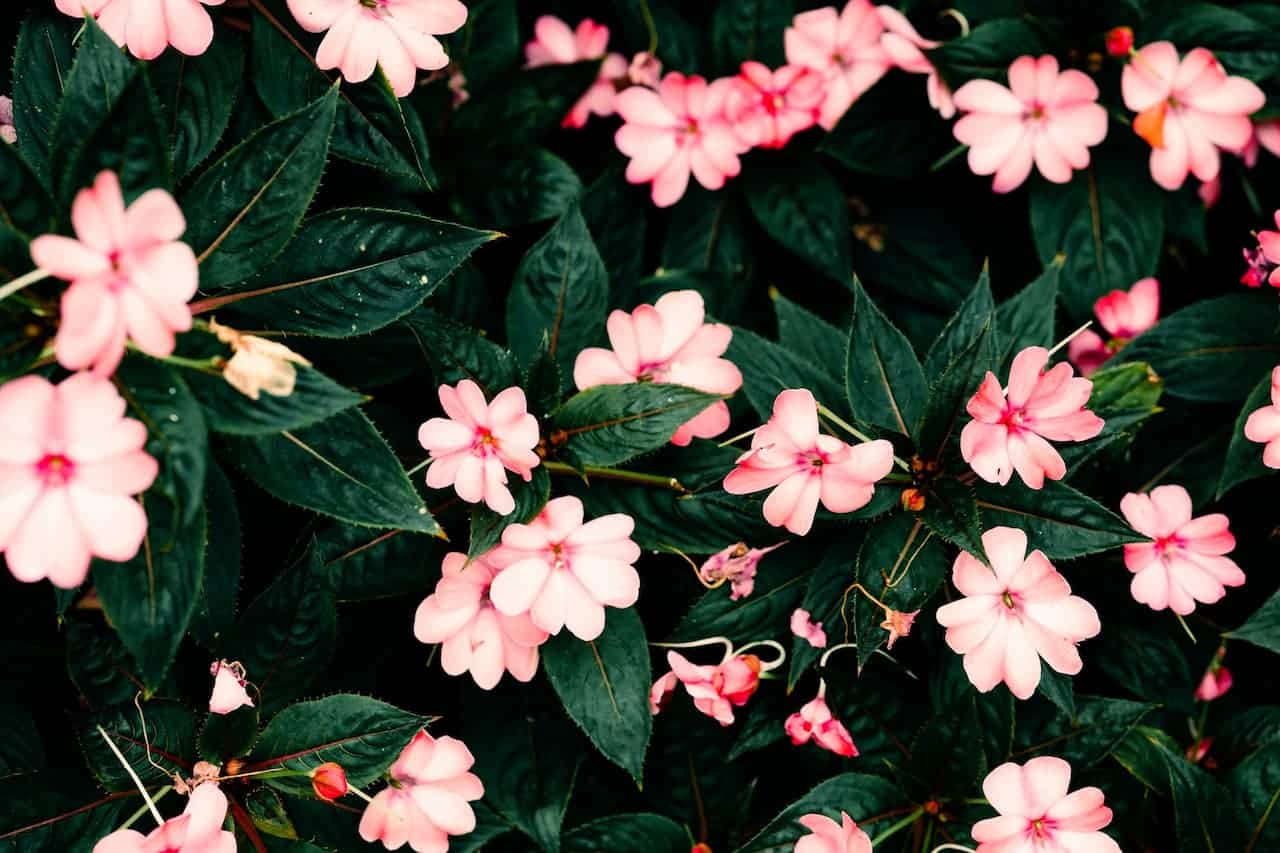 IMPATIENS- ANNUALS AND PERENNIALS FOR SHADE THAT BLOOM ALL SUMMER
These flowers are bright and cheerful annuals that beautify and light up every dark and shady part of your yard. They can grow in moist but well-draining soil and partial to deep shade. Common names include patience, touch-me-not, jewelweed, and snapweed. These shade flowers come in many colors, and although they die after winter, they are still considered suitable options for lighting up shade gardens since they perform better than other flowering shade plants. Make sure to use them well so they'll shine and don't end up becoming regular dull shades.
CORYDALIS LUTEA- YELLOW SUMMER BLOOMING FLOWERS FOR SHADE
The name corydalis originated from the greek crested lark Korydalis since the flower resembles the lark's head. They are short-lived perennials characterized by their yellow color (lutea means yellow) with touches of green. It grows better in shady areas of your woodland or cottage garden as it is not a fan of the afternoon sun.
LIGULARIA
A few people know it as the "leopard plant" with its striking purple-red leaves with a few varieties: yellow daisy-looking flowers and 'the rocket,' which boasts spikier blooms. It has a large leaf structure and is an excellent choice for any shade garden. In terms of care, they need moist, well-draining, rich soil and shade to part shade as they do not like to dry out; hence don't tolerate dry soil conditions.
A combination of ligularia and other water-loving shade plants is an excellent option as it ensures healthy and vigorous growth. Plants that can be grown next to ligularia include Lady's mantle, pulmonaria, astilbe, and filipendula.
CONCLUSION
After reading all the information above you now have a bunch of options to pick from when trying to beautify your shade gardens. Try to consider all the requirements for the care of these flowers if you don't want them dying and rotting instead of beautifying the place.