Gardening
Shimmer & Shine – a Succulent Showcase
The Northwest Flower and Garden Show in Seattle is considered one of the best in the country and with good reason. Spectacular show gardens, dozens of free seminars (including FOUR by your favorite Team Fine Foliage), a marketplace filled with gardening eye candy and a dazzling floral display are just a few of the attractions; there is enough to keep you happily mesmerized for all five days.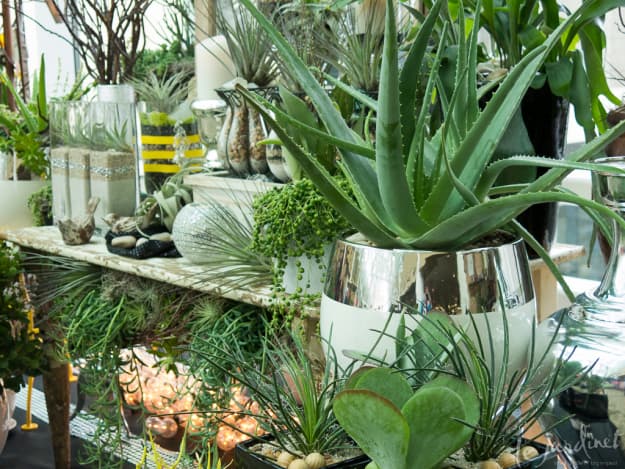 This year I found myself taking endless photographs of one of the Small Space Showcase displays called 'Beyond the Potted Plant' designed by Myra Shoemaker of Bellevue Nursery.
What comes to mind when I say 'potted plants'? Since I can never keep houseplants alive my family would probably respond 'compost'. But assuming your indoor gardening thumb is more green than brown you might think of a parlor palm, a jade plant or perhaps an indoor terrarium. Well push those weary ideas aside and be inspired!
While the selected plant palette is essentially one of succulents and air plants (Tillandsia)  this is far from the typical display. Most specimens are potted individually in an exciting array of containers which are artfully clustered together to showcase contrasting foliage shapes and textures. Shades of green need no apology when dressed up in metallic silver, pure white or glossy black.
Clear glass vessels become treasure chests filled with layers of fine sand, glass pebbles and decorative gravel, a single air plant placed delicately on the surface like a resting mermaid.
While we create interesting vignettes in the garden that concept is usually forgotten indoors yet this delicious display incorporates layers of silver framed mirrors, frosted beach glass, white candles on silver candlesticks and weathered wooden elements. The collection is stylish and contemporary without being overly fussy or feminine.
This is a lesson in elegant simplicity. By paring down the color palette the focus is on texture. Fleshy leaves against spiky ones. Tiny bead-like forms next to wild tentacle-like foliage. Reflective surfaces juxtaposed with matte finishes, clear with opaque.
Truly 'Beyond the Potted Plant' this tempts me to venture into the world of indoor gardening again. What about you?